Make 'ggplot2' Graphics Interactive
Create interactive 'ggplot2' graphics using 'htmlwidgets'.

Readme
ggiraph R package
Make 'ggplot' Graphics Interactive
Overview
ggiraph is an htmlwidget and a ggplot2 extension. It allows ggplot graphics to be animated.
Animation is made with ggplot geometries that can understand three arguments:
tooltip: column of dataset that contains tooltips to be displayed when mouse is over elements.
onclick: column of dataset that contains javascript function to be executed when elements are clicked.
data_id: column of dataset that contains id to be associated with elements.
If used within a shiny application, elements associated with an id (data_id) can be selected and manipulated on client and server sides.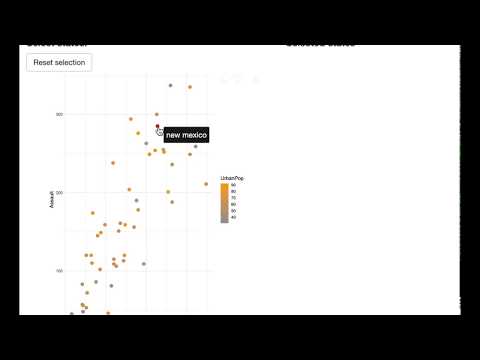 Installation
Get development version on github
devtools::install_github('davidgohel/ggiraph')

Get CRAN version
install.packages("ggiraph")

Details
| | |
| --- | --- |
| imports | , gdtools (>= 0.1.6) , ggplot2 (>= 3.0.0) , grid , htmltools , htmlwidgets (>= 0.6) , Rcpp (>= 0.12.12) , stats , xml2 (>= 1.0.0) |
| suggests | dplyr , knitr , maps , rmarkdown , sf (>= 0.3-4) , shiny , testthat |
| Contributors | Mike Bostock, Speros Kokenes, Eric Book, Eric Shull, Panagiotis Skintzos |
Include our badge in your README
[![Rdoc](http://www.rdocumentation.org/badges/version/ggiraph)](http://www.rdocumentation.org/packages/ggiraph)